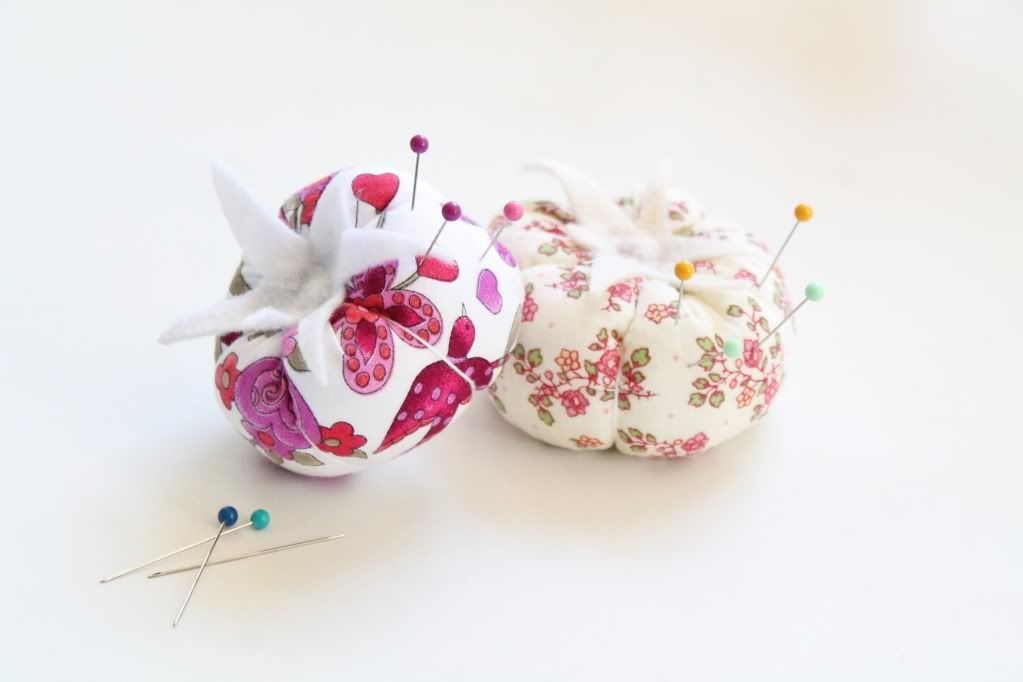 They are plump and fuzzy and perfect for stabbing. Okay, it's a pincushion, calm down. The moment I came across these
adorable tomato pincushions
, I just had to make a few. I am always searching for unique gift ideas, and these are perfect for any friends or family who love sewing, though if you're like me, you'll end up making a few for yourself along the way.
Here's what you will need to begin:
fabric // felt // a sewing machine // polyester fiber // thick twine or thread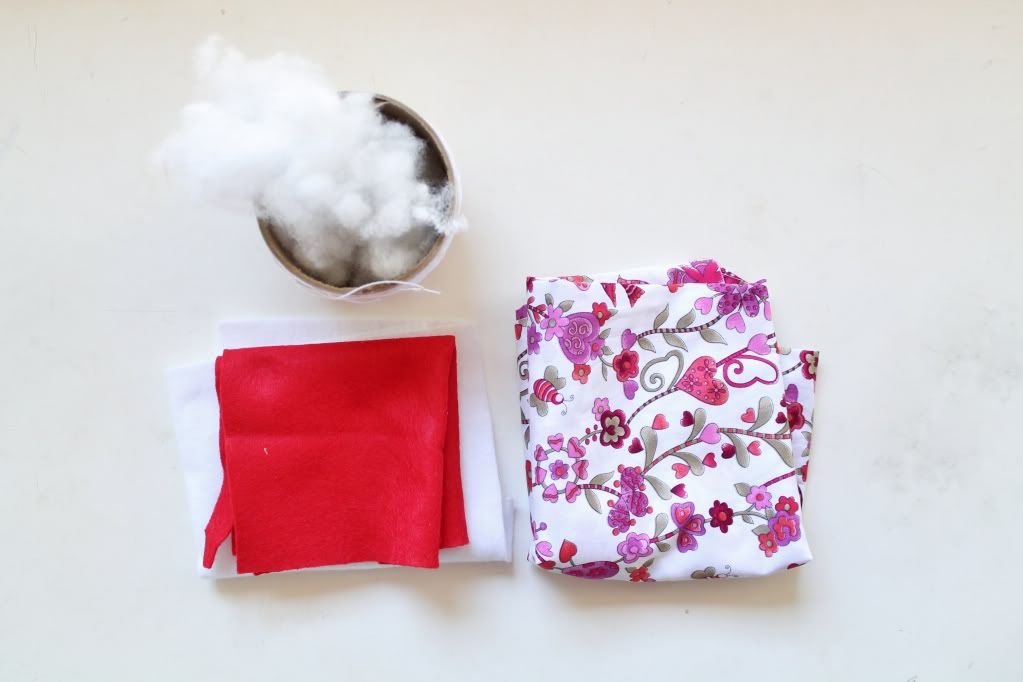 Step one:
Cut a 5x8 piece of cloth. This makes an approx. 3 inch wide pincushion. Fold it in half to make a square. Make sure the cloth is inside out.

Step two:
Sew along the dotted lines shown on the above picture. Then, across from the open end, gather the thread and bunch it up. I tighten it as best I can and then wrap the remaining thread around the top and knot it tight. Then flip it inside out.
Step three:
Stuff your little piece of cloth with as much polyester fiber as it can contain without exploding. I know that sand is also a popular stuffer for pincushions, and it also keeps your needles sharp. Not sure whether it would leak out, though.
Step four:
Thread a needle with any type of twine you will be using to create sections on your tomato. Tie a knot at the end of a long piece of twine (about a 18 inches) and poke from the top of the tomato to the bottom. Pull your needle through and continue to bring the needle from the top of the tomato to the bottom, creating as many sections as you like. I created five.
Then pull the needle to the top of the tomato and tie a knot.
Step five:
Now you must make the top "leafy" part of your tomato out of felt. You can trace it directly on the felt if you like and then cut it out. Any sort of star-like shape works.
Step six:
Use some hot glue or fabric tack to secure your felt top onto your tomato. Wah-la, you are done and are left with an adorable pincushion to spruce up your sewing box.
So, friends, what do you think of this little pincushion?

The first week of this new year has been rather busy, and with school beginning, I feel almost suffocated with my Physics textbook again. It is hard to fathom that this is my last year of high school. Only a few months to go and I shall cross the finish line; and you know what people always do just before the finish line, right? They use all of the strength left in them to reach it victoriously. I feel myself straining to reach that goal.
Hope everyone is beginning a wonderful 2012.